These families are without known relation to the Just family of Swiss origin primarily subject of this site or to each other. If there are any relations, it appears it would lie in continental Europe before 1800.

Patrick Just 1809-79 & Marion Calman (Just) from Scotland, descendants esp Tasmania, South Australia, Victoria, New Zealand

A Scottish family named Just had several members who emigrated to Australia 1800's. It is said the family had arrived Scotland later 1600's name Juste, huguenot refugees from France with yet earlier origins at Florence. A large database including deep into the Scottish ancestry is that of descendant Frank Richard Just (NZ) rootsweb 4hydest, much assistance for this account. The first to Australia was Patrick Just b 1809 Dundee, m1 1837 Elizabeth Alison Cook, m2 1849 Marion Calman 1817-84. Patrick arrived Victoria 1851 with Marion. Two of his brothers also came to Australia; John Thain Just 1817-54 m Adelaide 1853 Frances Yeates, and James Just 1810-98, both died at Adelaide without descendants. Patrick Just was Consul for Netherlands. In London about 1852-4, he returned to Victoria for several years then went to South Australia where shipping agent and journalist. Wrote book P. Just Australia, published Dundee 1859. d 1879 at Adelaide. Wemyss, family name of Patrick's mother Jean, has recurred amongst the group. Descendants include

Thomas Cook Just 1839-1900 4hydest8 mother being Elizabeth Cook, pic link to State Lib Tas, settled Tasmania, journalist, Tas MP tasparl/lynej177, wrote official handbook of Tasmania and other books
Thomas Cook Just m1 1862 Jane Dymond > Thomas Wemyss Just 1864-1921 of Tas, Vic, later England where died, m 1883 Louisa Grace Taylor (> Dora Gertrude Mary Just 1886 m New Zealand 1908 John Philip Mason; Bertha Violet Minnie Just 1891-1970 b and res Vic)
Thomas Cook Just m2 1875 Josephine Hadley >
Frank Richard Just 1879-1920 4hydestI4 from Hobart settled 1900 Wellington, New Zealand, soldier and phys ed teacher, m 1901 Ida Florence McAnerin 1881-1959 > Richard James Cook Just 1903-69 m 1926 Julia Jewel Browne 1904-90 m2 1960 Doreen Gilmour Auld 1901-1992 (> of NZ, Frank Richard Just 1929-2018 provider of database m 1954 Joyce Amy Loton 1931-2013; Norman Francis Just 1932-2021 m 1958 Molly Beverley Molloy, Jack Tama Haigh Just 1935-2004 m 1958 Margaret Elizabeth Anderson 1937-2012, Thomas Weymess Just 1942 m 1965 Marilyn Elsie Louch 1939-2016); Jack Francis Just 1912-2002 changed name to St Just, m 1943 Zena Ellen Augusta Mollgaard 1917-2004; Joan Frances Just 1914-91 m 1946 Reginald Frederick Joyce 1900-57 m2 1974 Percy Douglas Harrold 1913-87
Alice Mary Just 1881 m Launceston, Tas 1900 Alfred Simpson
Howard Hope Just 1883-1945 m 1906 Nita Gladys Rex settled 1910 Cape Town, South Africa, children
John Clay Just 1887-1937, sea captain res mainly Balwyn, Vic d NSW, m Vic 1919 Nellie Selina Hodgson 1893-1966
Wemyss Cook Just 1889-1958 m Vic 1914 Valerie Eleanor Pullar where settled
Elizabeth Ann Just 1840-1915 mother being Elizabeth Cook, lived mainly Adelaide, photographer and postmistress
John Calman Just 1854-1929 4hydest75 stockbroker Adelaide and Sydney m 1878 Sarah Louise Stephens >
Marion May Just 1879-1940 m NSW 1908 Ernest Edward Hall
John Stephens Just 1880-1962 engineer by 1930's settled Queensland, m Margaret Valentine Ligertwood 1883-1977 > all b NSW, Margaret Louise Just 1907-96, Muriel Jean Just 1910-92, John Ligertwood Just 1911-33
George Leslie Just 1885-1933 settled Vic, res Camberwell m 1908 Ethel Thomasina Humphries > William George Just 1911-68 m Helen Mary - d 1983, solicitor at Wangaratta, Vic, though unrelated had some legal profession collaboration in 1950's with Gordon Just, see above; Robert Bruce Just 1922-86 m Melb 1945 Eunice Powell 1920-96
Henry Calman Just 1856-1928 4hydest76 commercial traveller m1 Melbourne 1883 Bertha Elizabeth Bird 1862-88 > Henry Alexander Just 1884-1949 m Violet Stoker (> Lily Bertha Just m NSW 1944 Jack Raymond Morrison); m2 Melbourne 1890 Laura Elizabeth Bond > Laura Louisa Just 1893 m 1922 Allan Byrne; Olive Beatrice Just 1896 m 1916 Joseph Gates


To Queensland, others from the Scotch family

Three brothers, distant cousins of the above Patrick Just from Scotland, emigrated from Scotland to Queensland.

William Just 1851-1909 arrived 1883 with family; chemist, settled Brisbane, m Scotland 1872 Catherine Connon 1858-1921 > William Just 1874-1951, John Just 1877-1928, Barbara Dall Clark Just 1885, Eleanora Clark Just 1882-c1912, Sydney James Baker Just 1883-1952, Elizabeth Stack Just 1885, Mabel Catherine Just 1887: 4hydest450
Thomas Clark Just 1853-1915 arrived 1877, accountant and land owner, res Dalby later Brisbane, m 1878 Elizabeth Burns Yule 1854-1934 > David Clark Just 1879 m 1914 Minnie Wray 1876-1938 (> incl George Hallarday Just 1902-30, Douglas Clark Just 1909-67 b Roma in Queensland as was John David Just 1911-89), Christian Douglas Just 1881-1946, Elizabeth Burns Just 1885-1960, Robert Nicol Just 1887-1947 m Catherine Reid Black 1888-1936 (> Yvonne Just 1922-49), James Yule Just 1888 kia Pozieres, France 1916 headstone pic, Thomas Clark Just 1889-1963, Alexander Just 1890-1941, Oliver Wane Just 1891-1952: 4hydest451
David Gibson Just 1854-1945 arrived 1876, accountant, storekeeper, grazier, settled Dalby, m 1883 Isabella Carrie Yule 1858-1937 > incl Grace Douglas Just 1885-1944, Isabella Carrie Just 1886-1967, John Gibson Just 1888-1967 m 1929 Mary Watt Ferguson, Alexander Yule Just 1890-1976 m 1938 Edith Maude Nelder, William Gladstone Just 1893-1967 m 1934 Constance May Nelder d 1947, Edith Dall Just 1895-1935 m 1926 Arthur Geoffrey Cornell, Elizabeth Just 1900-87: 4hydest452

A cousin of the three brothers was

Leslie Mitchell Just 1848-1920, customs and excise officer Qld, d Sydney NSW, m Queensland 1877 Frances Sophia Ryder d 1907 > all b Qld, Agnes May Frances Just 1879, William Leslie Montrose Just 1883, Lorna Leslie Just 1885 (> Eric Just 1912)


More to Queensland

Leopold Theodore Just 1830-83 son of Freidrich Just and Freidricke, m Dresden 1852 Bertha Henrietta Reichel 1832-86 dau of Gottfried Librecht Reichel. Leopold and Bertha with children from Sachsen (Saxony) arr Brisbane 1873 ship from Hamburg >
Theodore Robert Just 1853-1929 c1900 bootmaker Cooktown
Johannes Kurt Just 1857-1943 farmer at Minden m1 1878 Anne Moore d 1881 m2 1890 Marie Antoni Itzstein d 1923 > Theodor Kurt Just 1890-1943, Sophie Eleanor Just 1891
Carl Just 1858
Rosa Maria Just 1863-1958 m 1880 Friedrich Von der Groeben m2 1897 William Hansen
Sophie Marie Just 1867-1953 m 1884 Johann Wenck

Ernst Rudolph Just 1839-1907, b Herrnhut, a town in Saxony of the Moravian tradition; Brisbane storekeeper; in Qld by 1867 when m Louise Freidricke Charlotte Wagner 1848-1919 dau of Carl Wagner and Hannah Wilhelmine Charlotte Sommer >
Carl Wilhelm Rudolph Just 1871-1957 pic Brisbane watchmaker m Clara Marie Mewing 1877-1918 > Eileen Clara Just 1895, Norman Hermann Rudolph Just 1896 (> Kenneth Norman Just 1920-65)
Ruby Louise Marie Just 1898
Margaretha Louise Hanna Magdalena Just 1873 m 1890 Friedrich Sperling

Martin Julius Just 1844-91 son of Gottfried Just, m Albertine Amelia Giering b 1852, both from Kreis Birnbaum (now in Poland), arr Brisbane 1878 >
Anna Just 1874
Otto Julius Paul Just 1876-8
Emma Just 1877-1943 m 1903 Thomas John Buckley
Richard Julius Paul Just 1879-1921
Albert August Just 1883 m Fanny Cummings 1891-71 > Cedric Albert Just 1910-96 m Mary 1910-76; Victor Merve Just 1913-89 m 1932 Gladys Hepenstal Jane Bell 1915-94 (> Mervyn George Albert Just 1932-2004)
Emil Martin Just 1886 m 1912 Elizabeth Kyte > Hilma Dorothy Just 1913
William Henry Just 1889
Martha Florentine Just 1889-1969
Albertine Emelia Just 1891

Christian Theodore Just 1853-1936, b Saxony, farmer at Goombungee 40km north of Toowoomba, m Emilene Emma Lemke 1865-1933, both in Qld by 1887. Christian son of Ernst Traugott Just and Wilhelmine Muller; Emma dau of Herman Lemke and Caroline Rachwitz >
Otto Theodore Just 1887-1965 m Henrietta Theresa Nitz > Norman Sydney Just 1921-2006 m 1944 Iris Olive Newman
Ellen Augusta Louisa Just 1888-1925
Maxmillian Edward Wilhelm Just 1890-1956 m Freda Annie Garrett 1897-1972 > Arnold William Theodore Just 1918-2017 m 1942 Verlie Tainton 1922-2000 who later art gallery dir Brisbane; Doris Joan Just 1919; Malcolm Edward Just 1920-93 army officer; Una Marjorie Just 1923-94; Muriel Patricia Just 1926-2006 m - Dowling; Ralph Ernest Just 1930-85
Falcion Amabel Just 1890
Agnes Just 1891
Clara Emma Just 1892
Olga Just 1893 m NSW 1917 Robert J Pearce
Edgar Oswald Just 1896-1956 m 1922 Ada Alice Kingston
Henry George Just 1899-1988 m 1931 Geneve Malachina Cuskelly 1911-2002
Frederick Easter Just 1901-73 m 1928 May Howell 1909-70 > Alan Theodore Just 1932-2013
Arthur Conrad Just 1902 m 1927 Elsie Clemesha
Leslie Stanley Dick Just 1903-1981 m 1922 Sarah Ashe
Freebert Sydney Just 1905


Friedrich Wilhelm Just 1803-69 & Friedrike Christiane Henriette Schubert (Just) 1813-89 from Neumark Silesia to South Australia, descendants also New South Wales, Western Australia

Thanks for much help given to site author 2006 from some descendants by request here unlisted. See also Biographical Index of South Australia 1836-1885 Vol II; SA BDM indices etc.

Friedrich Wilhelm Just b 1803 and Friedrike Christiane Henriette Schubert (Just) b 1813 and at least five of their children emigrated to South Australia, at least two of the sons late 1850's, the remainder of the family 1862. They were from Neumark Silesia (Neumark Schliesen), a German speaking region of the then country Prussia (region later part of Germany, now of Poland). Friedrich and Friedrike were born there, and married 1835. In South Australia, they went to Bethel; Friedrich, a farmer, died there 1869. Bethel is north of Adelaide and then was mainly a farming community of German speakers of the Moravian tradition.
Excepting for son Carl August Just who went to New South Wales, the children and many further descendants remained nearby or further north around Petersburg (including Dawson, Terowie, Parnaroo) where from 1875 the government released land for purchase; Friedrike died there 1889. In 1917 Petersburg was renamed Peterborough.
Children and many of the descendants as follows.

Carl Heinrich Just 1836-1904 farmer d Terowie, known as Heinrich, Henry or Harry, naturalised 1865, m Bethel 1861 Christiane Auguste Purmann b Prussia 1843 (dau of Johann Gottfried Purmann 1804-90 b Silesia m Johanna Elizabeth Göbel 1809-51 came to SA) > Carl Heinrich Wilhelm Just 1862-1887, Anna Maria Just 1864-1947 (> Alfred Samuel Just 1884-1965 b Bethel m 1914 Alice Edith Fulton 1889-1967), Anna Maria Just m 1889 Carl Friedrich August Hennig 1868-1941 (> all b at Parnaroo, Ada Elizabeth Hennig 1890 m Shultze, Herbert Edward Hennig 1891, Vida Beatrice Hennig 1893 m Smith, Lillie May Hennig 1896 m Cheffirs, Percy Stanley Hennig 1902, Melvin Louis Hennig 1905), Ottilie Clara Just 1865-1934 b Bethel m 1886 Carl Hubert Meyers (> Elsa Susanna Meyers 1887 Bethel m John Nottle, Alma Olivia Meyers 1889 b at Dawson as were Herbert Leslie Meyers 1891, Rosa May Meyers 1893 m Arthur Walter Smart, Walter Edwin Meyers 1896, Clifford Melvin Meyers 1904), Bertha Emilie Just 1868 m Parnaroo 1887 Hugo Emil Roesner 1856-1924, Auguste Elisabeth Just 1870-1957 m Parnaroo 1890 Emile Oswald Johannes Gruhl 1861-1945 (> Lawrence Godfrey Gruhl 1892-1970, Leonard Llewellyn Seabrook Gruhl 1894-1966, Friedrich Wilhelm Gruhl 1898, Flora Josephine Gruhl 1903-1980 m FJ Lang, David Daniel Gruhl 1912), Anna Lydia Just 1876-1966 m Christopher William Rowland Betty (> Raymond Rowland Betty 1904, William Eugene Betty 1905), Albert Theodor Just 1881-1972 m 1911 Catherine Davies 1891-1967 (> Lance Albert Just 1919-2005), Alma Juliane Florentine Just 1883-1932 m John James Poole, Hugo Edwin Just 1885-1920 m 1910 Ethel Gertrude McKenzie 1883-1920 (> Oliver Edwin Just 1913-96 of Port Augusta m 1947 Cynthia Betty Eldret 1924-73, Ronald Garth Just 1914-86, Eric James Just 1917-88, Lois Enid Just 1920-94 see Margaret Aitchison rootsweb button).
Carl August Just 1837-1926; around 1870 settled near Jindera in southern New South Wales as had some other German speaking settlers from South Australia tourisminternet; by 1872, known as August Just, a blacksmith at Huon, naturalised 1873, d at Jindera; m1 Jindera 1873 Emma Pollack (d 1873, dau of Henry and Henrietta ) > Adolfina Just b 1873-1900 m Jindera 1899 Thomas Butcher, Henrietta Christina Just 1873 d same year; m2 Jindera 1873 Mary Elizabeth (or Maria Elisabeth) Scholz 1856-1944 b SA > Carl (Charles) Friedrich Just 1876-1965 m Howlong 1905 Louise Anna Weule d 1942 (> Hilda Mary Just 1906 b Howlong, Elsie Just 1908, Otto August Just 1909-1992 m 1946 Grace Elva Wilson, Roy Charles Just 1926-2016), Emma Christiane Just 1880 b Howlong m Corowa 1901 Thomas Butcher junior. More at Aldyth Ikin rootsweb barling.
Carl Friedrich Just 1838-1925 farmer and wheelwright, by 1882 at Truro, m Tanunda 1867 Anna Louise Ullrich 1848-1937 b Royn, Prussia > Anna Caroline Henrietta Just 1867-1956 b Nairne d Mosman Park in Western Australia m Prospect 1891 William Henry East, Carl Friedrich Wilhelm Just 1869-1933 as Charles Frederick William Just m Guildford near Perth Western Australia 1900 Eva Osborn 1877-1950, after early years at Truro, farmer and blacksmith Wagin WA to 1909 when settled on selected land Latham district 300 km north of Perth ( > Myrtle Irene Just 1900, Charles Osborn Just 1903, Eric Favin Just 1905-89, Thelma Eva Just 1907-62, Vernon William Just 1912-74), Friedrich Wilhelm Paul Just 1872-1948 m 1903 Lily Beatrice Turner 1885 (> Edgar William Roy Just 1903-62, Winifred Dolcie Just 1906, Albert Henry Frederick William Just 1911-66 d Vic, Melville William Just 1912-2004), Ernst Traugott Heinrich (Ernest Henry) Just 1874-1965 coachbuilder m 1913 Adelaide May Gurr 1880-1959, Ernst August Just 1877-1946 m 1908 Alice Campbell (> Gladys Ray Just 1909, Vivian Gerald Just 1915-46), Mary Louisa Christina Just 1879-82, Gustav Adolph Just 1882-1967 of Truro m Mary Dargan (> Clifton Malvern Just 1912-85), Hermann Carl Just 1885-1913 of Truro, Emma Elizabeth Just 1888 m James Elliott Hoy, Otto Edward Just 1891-1982 d SA, m Trafalgar in Victoria 1916 Violet Muriel White d 1985 SA (> Annie Elizabeth Just 1916).
Carl Friedrich Wilhelm Just 1850-1925 farmer, naturalised 1913, m Stockport 1880 Wilhelmine Seekamp 1853-1917 (dau of Diedrich Seekamp and Minna Amelia nee Yoigt) > Ernst Alfred Just 1881-1945 b Bethel, Hilda Clara Just 1893-1969 b Petersburg m there 1919 William Charles Melville.
Anna Maria Caroline Just 1856-1938 m Bethel 1876 Carl Friedrich Wilhelm Hennig 1851-1936 > Augusta Friedrike Anna Hennig 1876-92, Adolphine Caroline Mathilda Hennig 1880 m 1908 J Spitty, Johanna Maria Emmaline Hennig 1882-1943 m R Shade, Emma Wilhelmina Alwine Hennig 1885 m Charles Edwards, Louise Amalie Frieda Hennig 1888 m 1913 Herbert Drew, Gertrude Cecilia Jane Hennig 1891 m 1913 Arthur Drew, Anna Hilda Rubine Hennig 1894 m Hoffman, Hilda Sylvia Elvira Hennig 1897 m1 Harold Barringer d 1939 Hilda m2 Worthley.


Christian Just 1809-82, Heinrich Just 1834-1916, Fritz Just 1838-1928 from Duchy of Brunswick to South Australia

Heinrich Christian Just 1834-1916, arrived SA 1862, was from Gittelde in Duchy of Brunswick (Braunschweig, later part of Germany). By 1867, he was a butcher known as H. Just at O'Connell st North Adelaide, shop and premises newly built 1883 The Register described as perhaps one of the best in the colonies; naturalised 1884; son of Christian Just (per m record) presumably the so-named d North Adelaide 1882 age 73. Heinrich Christian Just m Adelaide 1863 Bertha Vollbrecht 1835-95 > Christian August Wilhelm Just 1867 (probably the Fritz Just d 1911 Whim Creek, Western Australia 1700 km ne of Perth, fall from horse, butcher, said at time age 45, in WA about 9 years, b Adelaide, son of Heinrich Just butcher, dau Violet age 18: Y & K Coate More Lonely Graves of WA), Emil Barthold Adolf Just 1869-71, Carl Adolf Wilhelm Just 1875, Bruno Walter Charles (Kenneth) Just 1878-1947 butcher m North Adelaide 1935 Emma Louise Simpson 1887-1956.

Heinrich Carl Frederich (Fritz) Just 1838-1928, brother of Heinrich Christian Just, arrived SA 1878; butcher, c1888 as Frederick Just, Margaret st, North Adelaide; by 1898 dairyman at Prospect; m Johanna Dorothea Sophia - 1848-1926 >
William Just 1868-1913, named as Henry Just arrived SA 1882 via Victoria age 15; butcher. As Henry Just, m Adelaide 1888 Rose Edith McDonald 1871-1930. > with father named as William Just, all born at or near Adelaide: Rose Elizabeth Just 1888, William Just 1890-1968 m 1911 Rosalie Elizabeth Baynes 1893-1960 (> William Herman Just 1914-34), Herbert Fritz Just 1892-1984 racehorse breeder and owner m 1912 Amy Powell d 1973 (> Ernest Herbert Just 1912-93 m Margaret - ), Alfred Herman Ernie Just 1894-1906
Hermann Just 1870-1931 arrived SA 1882 via Victoria; like brother William, apprenticed to father, then with William employed by a butcher at Gouger st and Central Market, Adelaide which business they took over in 1906 as Just Brothers (Cyclopedia of SA 1907); m 1898 Annie Bertha Arnold 1874-1944
Marie Annie Just d 1943 m Herbert Joseph Backhouse 1860-1945
and probably the Frederick Just 1869 arrived SA 1882 via Victoria who probably was Friedrick Hermann Just d 1909 by 1899 miner at Gullewa in Western Australia 400 km north of Perth; m Perth 1900 Dorothea August Albertine Pohl d 1909 > Wilhelm Otto Just 1900, Walter August Just 1904 both b Lennonville 500 km north of Perth; Friedrick and Dorothea d at Murchison in that region.


More in New South Wales

Thomas Just m Sydney 1842 Anne Byrnes

Herman J Just 1830?-1907 son of Julius Just and Caroline, probably the Hermann Just arr assisted Brisbane 1866 age 36, m Queensland 1872 Bertha Viewey d 1914, in Sydney region by 1882 > Henry Paul Just 1882-1960 m Mabel Louisa Preston 1883-1937 (> Henry P Just 1903, Thelma Just 1905), Oskar Herman Just 1887-1967 m 1909 Florence Davies d 1967 (> Vera Just 1908, Evelyn Just d 1923, Oscar Frederick Just d 1957), Gertrude M Just 1892 m 1910 William Walker

Norman Wolfgang Just 1897-1945, b Portishead, England, British Army ww1, arrived Sydney 1922, tobacco worker, AIF ww2, m Sydney 1931 Marjorie Ann Davey 1899-1991; son of Ulrich Wolfgang Just b 1863 m 1895 Beatrice Wright. Norman was grandson of Heinrich Wolfgang Just 1819-96 m 1853 Henrietta Dorothea Mohr 1831-1900 both from state of Württemberg (later part of Germany) where it is understood the Just family was of huguenot origin fled late 1600's from Saint-Just, France. Heinrich by 1854 was a teacher of German at Bristol, England. He wrote a book on German Grammar. Numerous children born in England included also (Sir) Hartmann Wolfgang Just 1854-1929, a senior member of British Colonial Office, who visited Australia 1914. Another was Adelheid Clara nee Just b 1871 - her daughter Doris Adeline nee Carter 1900-82 was an artist designer and teacher from 1939 living and working in Australia known as Ann Gillmore Rees, see further Susan Wood article 2008)

Friedrich (Frederick) Just 1899-1970 b Vienna, Austria, accountant, 1940 interned at Tatura, Victoria for being an Austrian citizen at Singapore; 1942 accepted into AIF; m Sydney 1942 Elsa Reschonsky d 1965

Zygmunt Stanislaus Just 1904-70 (arr Australia 1950?) related to? Karel Just 1911-66 (arr Australia 1950?)


Friedrich Wilhelm Julius Just 1850-1925 and Pauline Emilie Schriber (Just) 1849-1909 from Germany to New Zealand


Friedrich Wilhelm Julius Just 1850-1925 pic m Pauline Emilie Schriber 1849-1909 pic, known as Emilie. Went to New Zealand with their child Carl on the Shakespeare, described as Wilhelm 24 labourer and Emilie 27, county Prussia, arriving Wellington 23 January 1876. They moved to the Manawatu where they set up business as market gardeners; they felled the bush to clear the land and then grew and sold vegetables, cut flowers and small fruit: from descendant Ronald W Just of Queensland e-mail site author 2008, see also his Just Family tribalp with pictures from which above 2 adapted also below of MB Just born 1880. FWJ Just was naturalised NZ citizen 1893. Death notices named him Julius Frederick William Just. An obituary said he had served in Franco-Prussian War and his hobby was paintings and curios. Further pic, thought FWJ Just and Emilie together.

They were from a region south east of Berlin. Wilhelm was from Sommerfeld (naturalisation) or Summerfeldt near Geoben (probate affidavit by son). Emilie according to Ronald Just was from Barenklau, Guben; he also points out that Sommerfeld was other name for Lubsko. These are nearby places, at time they left deeply within newly unified Germany, previously deeply within Prussia. Today Guben/Gubin is divided between Germany and Poland. Lubsko is in Poland; Barenklau in Germany.


Children and some further descendants

Carl Julius Just 1875-1958, born Germany, often known as Charles, of Palmerston N, by c1908 of Warkworth, later Whangarei, cement manufacturing worker m 1895 Isabella Forrester McMillan d 1955 > Margaret Nathalie Just 1896-1974 m 1912 Francis James Moore m2 1937 Cecil John Renwick 1889-1945; Amelia Hazel Isabella Just 1899-1976 m 1922 Cyrus Ezra Smith 1886-1969; Helena Forrester Just 1903-76 m 1921 Stanley George Johnston 1890-1928; Viola May Jean Just 1906-87 m 1926 Charles Joseph De Luca; Carl James Frederick Just 1914-2003 fruiterer m Ellen Wilkinson - 1917-98; Rose Nancy Daphne Just 1922-2004 m 1943 George Wilfred Lawrence Barber 1916-83. Carl Julius Just divorce 1939, m2 by 1946 Minnie Catherine - 1886-1961

Hugo Bruno Just 1878-1945 pic known as Bruno, of Palmerston N, market gardener, pioneer NZ kiwifruit industry, m 1900 Catherine Margaret Barry 1877-1964 > Frederick Richard Just 1901-87 nurseryman m 1931 Myra Clayton Finlay 1909-91 (> Barry Hugo Just 1937-2011); Agnes Ivy Myrtle Just 1904-82 m 1928 Mathias Kilburn Wolfsbauer 1898-1977 gdau Denise Wolfsbauer e-mail site author 2009; Edward Henry Just 1906-67 builder m 1929 Daisy Alma Wolfsbauer 1910-94; William Ernest Just 1908-89 nurseryman m 1939 Marjorie Lacy 1913-90

Max Bernhardt Just 1880-1925 pic of Palmerston N, market gardener, contractor, m 1907 Emma Jane Bassett 1888-1936. As James Maxwell m Sydney, Australia 1925 Kathleen Fear. Died Melbourne 1925, Victoria inquest Maxwell-Just death index James Anscerr Maxwell Just, NZ death notice. Children with Emma Jane (later mainly of Wellington region) > Nyleptha Pearl Just 1909-1962 m 1934 John Gage Lecky 1893-1973; Francis William Max Just 1911-61 plasterer m Lorna Mary Doreen - 1907-88 (> Sydney Eric Just 1931-2015, Ethel Florence Shirley Just 1930-2014 m Burn); Lionel Bernard Arthur Just 1912-86 plasterer m 1933 Doris Rebecca Moody 1915-85 (> Lionel Joseph Just 1934-2011 m 1956 Valerie Lois Deadman 1934-89); Mona Dorothy Just 1914-73 pic (> Francis Bernard Arthur Just 1933-2008; Ronald Wayne Just) m 1951 Alfred Matthew Hughes d 1975 lyndasim tribalp; Arthur Claude Just 1918-59 painter m 1938 Eugenie Archibald; Ivy Veronica Just 1920-2000 m 1947 Robert Arthur Bly

Arthur Wilhelm Just 1882-1947 of Palmerston N, nurseryman, florist m 1906 Ellen Taylor 1880-1966. At 1938, President New Zealand Horticultural Trades Association

Frederick William Julius Just 1884?-1963 pic, pic name as later recorded, probably birth indexed as Frank Wilhelm Just 1884, known as Bill, of Palmerston N, by 1914 Northland, 1919 Auckland 1919, by 1928 gardener, farmer at Te Hoe se of Auckland
m1 Herekino 1914 Edith Graham (Irimate Te Umuhuri) d 1918 > Frederick William Just 1914-86 pic m 1948 Jean Doris Dowrick 1925-2005; Edith Mavis Just 1917-17; Arthur Just 1918-18
m2 1921 Vera Isobell Kite 1900-84 (b Ohingaiti child of Frederick Kite and Mary Ann Ellen Hyde per m cert, originally from Nelson NZ) > Emily Gladys Just 1922-2000 m 1943 James Moana m2 1962 Peter Terapa Neilson 1915-82; Maxwell Bernard Just 1924-50 m 1946 Rose Ellen Hart; Carl Hugo Julius Just 1926-2005 pic adapt from fb Peter Just, m 1954 Gilda Lorrelle Margaret Holden d 1998; Ivy Gwendolen Just 1928-99 m 1949 Verdun Caleb Gollop 1920-73; Arthur William Just 1931-79 carpenter m 1955 Leonie Florence Mary Coningham; Helen Vera Just 1932 m 1957 Norman Gordon (Darby) Munro 1938-2015; Harold Bruno Just 1935-87 forest worker, farmer, of Hamilton, m 1958 Shirley Vivian Brightwell, son Kerry Just e-mails and pics to site author much assisting; Edward Leonard Just 1937-2013 m 1974 Acacia Sydney Elizabeth Hodgkinson 1921-96; Colin Brian Just 1939-40; Rod David Just 1942; Laurence Herbert Just 1944 m 1962 Kathleen Florence Nayler 1944-2003
pic Group c1955, pic 1957 FW (Bill) Just, Vera, Helen, Arthur, Emilie, Harold, Ivy, pic 1958 FW (Bill) Just, Vera, Harold B Just, Shirley

Viola Helene Just 1885-1953 of Palmerston N m 1910 Herbert Leslie Langford 1884-1970

Anna Emilie Just 1887-1954 of Palmerston N m 1907 Isaiah Danks Aston 1869-1934.
Herbert Just 1888-1949 from England to New Zealand

Herbert Just 1888-1949 b Norwich, England, near which for generations there had been a Just family. Herbert was child of Robert Just m Sarah. NZ army ww1. Farm worker of Temuka, near Timaru. m NZ 1926 Catherine Greelish 1894-1977.

Riccardo Just b 1922 and Mira Bertocchi (Just) from Muggia province near Trieste to Australia
There is a Just family of Muggia province near Trieste, Italy, formerly Austria-Hungary. Riccardo Just (d Muggia 1944) and Clementina nee Kellner had a son Riccardo Just 1894-1989 painter, poet and musician. His son Riccardo Just b 1922, painter and flamenco jazz guitarist, emigrated to Aust 1954 with wife Mira nee Bertocchi and children (thanks to son Bruno Just e-mails to site author 2003 and son Paolo Just 2004).

More
Others include persons name Just to Australia and New Zealand since 1945 from (as now known) Germany, Austria, Czechia, Slovakia, Denmark, Estonia, Lithuania and Poland, including Werner Otto Just d 1995 and Isolde Martha Just nee Plattner 1926-2008 emigrated to Aust 1952-5 from Germany, settled Morwell Vic, later Canberra. Also, Zenon Stanislaw (Stan) Just 1926-2014 settled Melbourne.

site author Don Just
Melbourne, Australia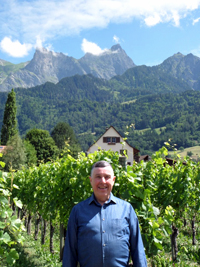 near Maienfeld, Switzerland 2018
www.justd.com
justd@bigpond.com
English, Français, Deutsch, Italiano

This is www.justd.com/just
commenced Sept 2001 latest 9 March 2023